In the middle of the 19th century, you are the leader of a start-up. Your goal will be to develop your economic empire and make it prosper in the best and more efficient way possible. Buy some companies, upgrade them, create and enhance your production engine, and become the best business owner of the whole industrial revolution!

How to play?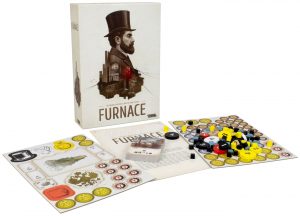 The players take on the roles of 19th-century capitalists building their industrial corporations and aspiring to make as much money as they can by purchasing companies, extracting resources, and processing them in the best combinations possible.
The game is played over 4 rounds and each round has 2 phases: Auction and Production. During the Auction Phase, the players bid on companies. The one with the highest bid receives the company, while all lower bids receive compensation (which sometimes can be even more profitable). During the Production Phase, the players operate their companies in order to gain, process, or sell resources and eventually upgrade their companies to maximize their profits.
The players should optimize their production chain and find the most effective way to gain the most money, as the wealthiest player wins the game.
Specifications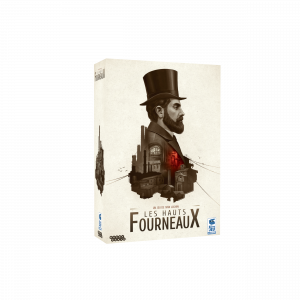 From 2 to 4 players
14 years old and older
45 minutes
Designer: Ivan Lashin
Artist: Oleg Yurkov
Available in July 2021
Publisher: Hobby World and La Boite de Jeu & Friends (French Version)
Distributor: Blackrock Games
MSRP : 32€
Contents
1 round tracker Board
41 Company Cards
5 Start-up Cards
17 Capital discs
1 die
40 Coal cubes
20 Iron bars
15 Oil drums
61 Money tokens
Other tokens
Press Kit